Welcome to my website!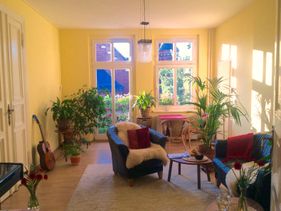 As a healing practitioner, exclusively in the field of psychotherapy, my therapeutic approach is very much influenced by many creative methods as well as the philosophy of Gestalt therapy.
I also think that we have always done the best we possibly can in any given situation. 
But sometimes the strategies that once were helpful to fulfill our needs don't serve us any longer and we start to suffer. Then it's time to look for some support.
Possible issues can be:
fears
depressive moods - no power or interest in whatever
feeling easily irritable or aggressive
problems with relaxing or sleeping
decrease in concentration, decline in performance or a failed exam
crisis in vocational training, study, job, partnership or family 
search for meaning
wish to reconciliate with past experiences
private oder professional reorientation after a separation, a dismissal from the job or a burnout 
creative blockades
psychosomatic complaints - pains without any physical reason
serious illness - your own or that of a loved one
grief
I offer many holistic and creative methods, including work with your body, your emotions and your thoughts - depending on your needs and interests. 
Because of my various experiences with the healing effects of expressiving myself creatively I can also offer you many possibilties to express your issues creatively if you like - by drawing or painting, by improvisations on the piano or the guitar, by singing, writing, dancing or acting.
If you like, you may find some information about my own creatively healing self-expression here: https://sigrid-schmitz.jimdosite.com
In our first session we talk about your main issue(s), about the basic conditions of our possible work together, and we agree on the fee which ranges between 70 to 90 Euros for 50 minutes, depending on how much you can pay.
As practioner of psychotherapy I can make out invoices which may be covered by your private health insurance if services of practitioners of psychotherapy are part of your agreements with your insurance.